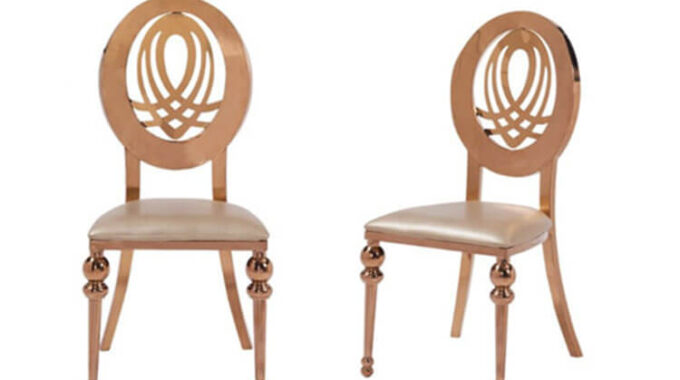 Stainless Steel Chairs Buyer's Guide For Wedding/Banquet
We found at this year's exhibition that so many furniture suppliers, party rental companies, and wedding planners came to our booth to inquire about stainless steel chairs, and we asked them why. It turns out that the new generation of young people prefers stainless steel wedding tables and chairs. So today we launched a buying guide on stainless steel chairs one of the leading stainless steel chairs manufacturers in China.
Why Stainless Steel Chairs Are so Popular
Ever wonder why the stainless steel chairs are very trendy compared to the wooden row chairs used in many public places?
Evidently, the stainless steel chairs are fire-resistant and tough enough to withstand fire for hours. They are durable and robust to protect the environment and lightweight for easy mounting and installation.
A typical stainless steel chair for sale is composed of high-quality steel with electrolytic steel support for sturdiness, coated with an electrostatic spray tech powder coat. The surface is fashioned with high-solidity furniture bonded with durable adhesive to stay in place and intact in the most severe installation conditions where damage can be an imminent cause.
But because of its known reinforced steel characteristics that can tolerate such harsh conditions, the modern stainless steel dining chairs lifespan is generally longer than the wooden chairs. Almost far less than damage-resistant.
And far more elaborative to mention, the stainless steel chairs' simplicity in developing an atmospheric modern-day design results in a flamboyant and futuristic look that is never out of date. Designers and craftsmen combined collaboration in designing various appearances tends to have artistic design ingenuity producing an elegantly sophisticated style. A certain must for attracting the eye of an interior decorator's meticulous vision in selecting a style associated with the different types of environment, venue set up and presentation of its nature. Stainless steel chair design and styles easily capture adaptable use scenario in a both public and private environment.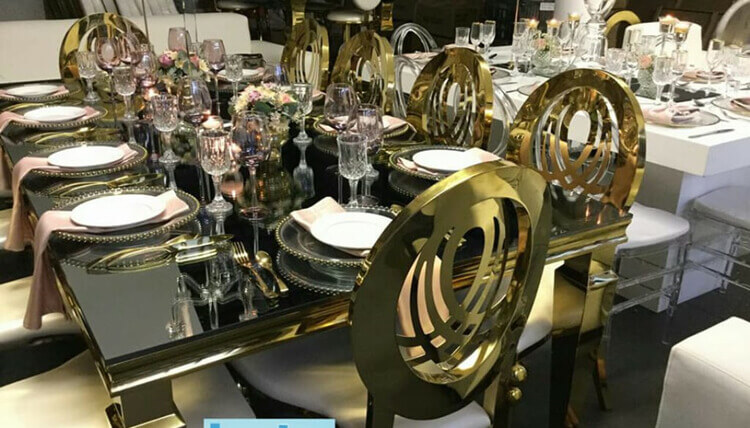 Stainless Steel Kitchen Table and Chairs
To match the stainless steel chairs of its use to the vast number of public and private places has never been so easy and flexible, in comparison with the wooden chairs diminishing characteristics, shorter lifespan, and high formaldehyde emission content rating that exceeds the standards.
The stainless steel chairs have conquered popularity on demand and are now widely used by many, as they surpass the standards in quality that are way better than the wooden chairs.
The stainless steel dining room chairs with a modern look and futuristic appearance, as well as the durability, high quality, and environmentally friendly composition, are the elements that define this stainless steel chair.
In addition, the stainless steel chair also has the characteristics of unlimited extension and repeated combination, which not only facilitates disassembly and maintenance but also greatly improves the service life and reusability of the product.
Each combination element of the stainless steel chair has undergone extensive modern technical design, space design, and testing to meet the needs of different medical facilities and uses.
In conjunction with this, a recent survey release has announced that stainless steel chairs occupy the mainstream of public chair use around the globe with on-going production demand soaring high numbers to this date.
Stainless Steel Chair History as it Unfolds
Since the dawn of the century and the manufacturing revolution for all sorts of chair products and uses, wood or lumber are the common choices for the main material. A known centuries-old source of building material we see in different forms and purposes.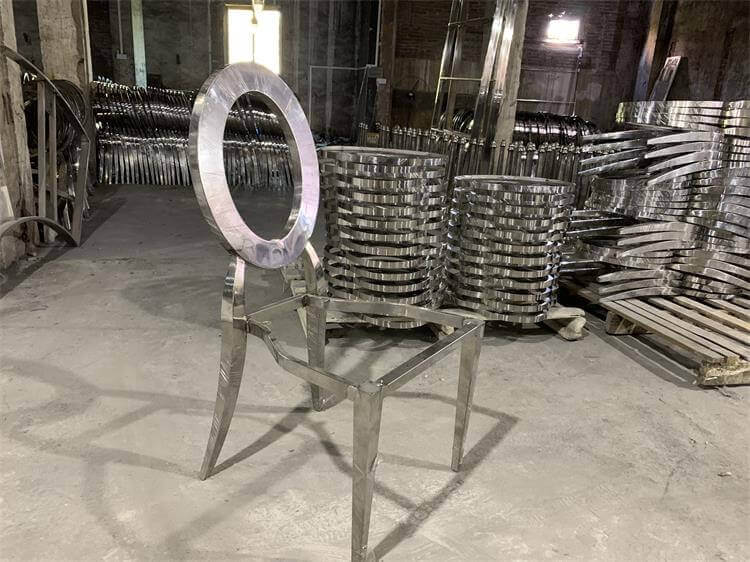 Primary Stainless Steel Kitchen Table And Chairs
On the other hand, metal, and steel, did not become a choice of material for chairs because of many reasons, one of which, is known to be costly and sources are limited. Up until modern technology became available, the need for alternative ways to use other types of materials stemmed and the discovery of stainless steel metal took its form and the advantages and variety of uses it can produce to be cost-effective and comparatively harder than wood.
In conjunction with these beneficial factors, the stainless steel contribution to the on-going environmental rehabilitation globally resulted in a significant reduction in the logging industry and tree-cutting process in our forest for producing wood/lumber material.
That said, deforestation ceased, and restorations took place.
A great environmental impact resonated from the birth and discovery of the stainless steel developmental features that intuitively surfaced as an alternative source for vast products that continue in this modern day.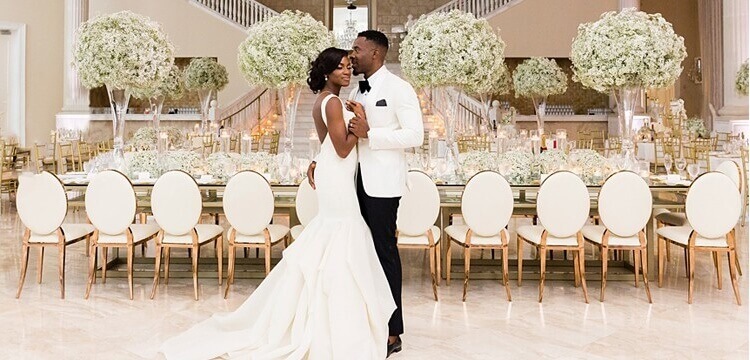 Stainless Steel Wedding Chairs
Applied with science and technology, this material delivered massive amounts of production requests for each type and variety of uses. The top-of-the-line product categorized with high volume demand for production is the stainless steel chair, popularized for its known qualities and characteristics as specified above.
Application of Stainless Steel Chairs
Stainless steel chairs are widely used in various modern scenarios, from indoor to outdoor types of settings. A universal creation we see almost everywhere we go, chairs of different sizes, colors, shapes, and elegance. Diversified and novel to each type of environment or scene it is being used for.
A natural ornamental decoration that brings color and ambiance to a place that subsequently serves its purpose as it was made. Without these chairs' presence, activities, events, gatherings, institutions and living spaces would have been difficult to even initialize.
Stainless Steel Dining Chairs
That said, chairs' essential purpose cannot be considered an optional part but an important backbone to the above-mentioned situation, be it an indoor or outdoor scenario of any type of environment, the chair, and its function will never become an obsolete component.
Therefore, given these significant facts and the nature of its existence, a legendary piece of art and creation is an important content of the building blocks of the world we live in. A historical element that continues to revolutionize its way to the future, is the one-of-a-kind, Stainless steel chair.

Stainless Steel Tables and Chairs
With its unique present-day look, distinctively shaped with modernized design for each type of environment usage. Unified with precision ergonomic features that applies to every indoor and outdoor scene such as living and dining room, offices, conference, restaurants, hotels, recreational facilities, ballrooms, leisure parks, wedding events, party places and other public and private places for gatherings.

Stainless Steel Chairs and Tables
The Stainless steel chair's general purpose has conquered the best practical solution for every type of environment and utilization. Backed with its proven qualities tested in time, and characteristics that will last for generations to come.
2023 Most Popular Stainless Steel Chairs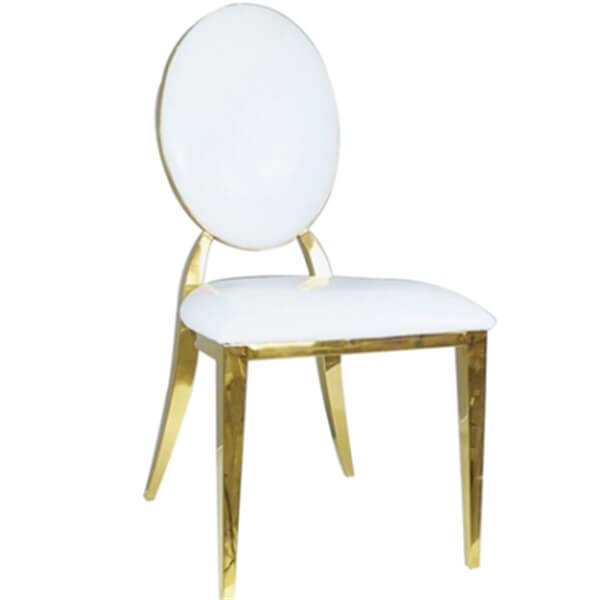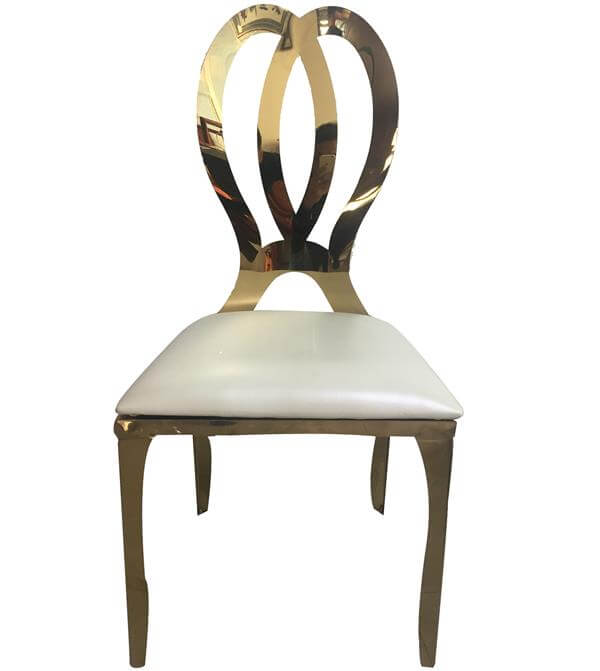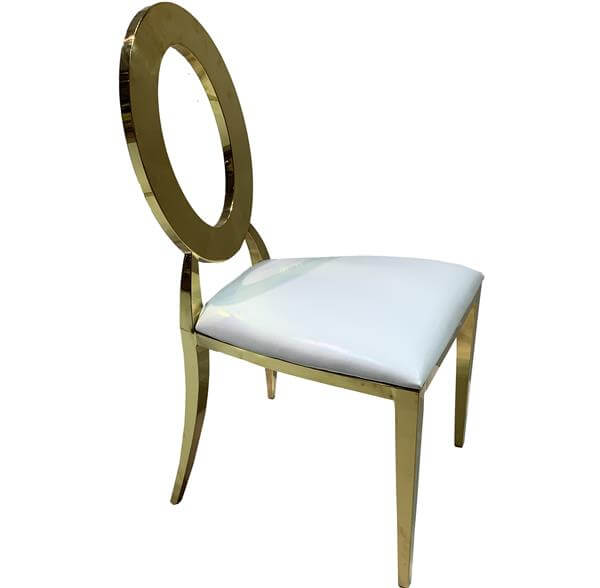 (Customized) Superimposed and Detachable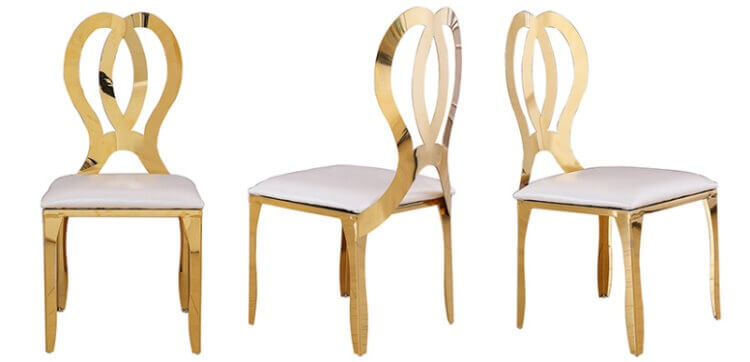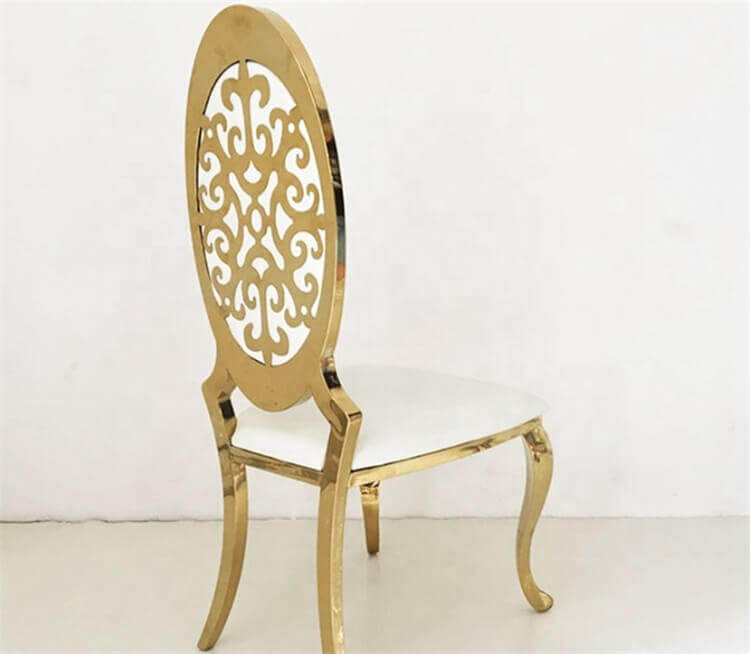 Stainless steel chair building process
Stainless Steel Manufacturing Process
In accordance with each customer's requirement, the initial process starts by selecting the preferred material. Sized to the specific thickness or special requirements accordingly. Ensuring reliability and maintaining quality to sustain a rust-proof surface of each part. Machine tested to withstand the dry, wet environment and cold and hot climate temperature.
The precision cutting process is done by machine according to the specified size, thickness and form sequenced to the number of pieces/parts to link with. Properly outlined dimensions with angle, circumference, and bending corresponding to the parameters given to align exactly and conveniently allow the smooth bonding and welding of parts. Intuitively calculate an effective cutting and perforation detail guideline to maximize usage of material without waste and minimize damage.
The prototype of the entire stainless steel chair frame needs to be welded in a specific machine tool. Robotic welding machines with robotic hands that are properly set and calibrated correctly will perform and complete the welding job needed. Which, most factories are already using for welding and soldering of material parts, links, and joints that require a full welding process to stabilize the parts and make them strong and firm.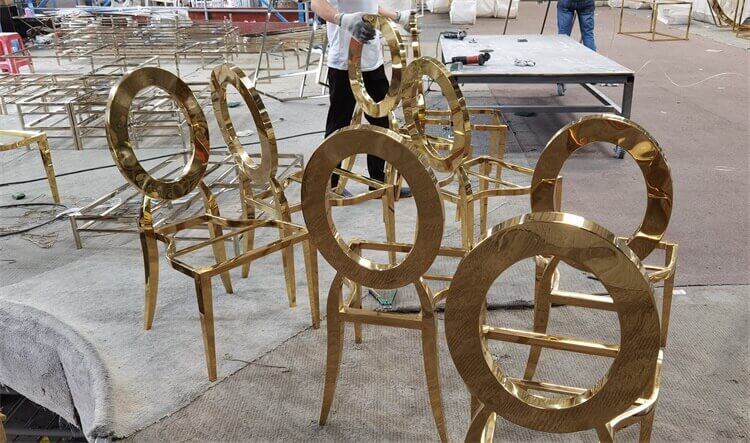 Stainless Steel Tables and Chairs Manufacturers
Polishing is an important part of the process, whether the appearance is
smooth or not. It has a great impact on the quality of electroplating.
A good quality stainless steel chair must be carefully polished 2-3 times before it enters the electroplating process.
The main purpose of pickling is to thoroughly wash off the powder and iron filings with weak adhesion, which facilitates the strong adhesion for the later process of electroplating.
The electroplating link is a particularly important link to the process that affects the quality and appearance of the product. It is a sensitive technical activity that will exemplify the quality, color, and shade that enhances a uniform color effect to its excellent look. The process applies to both the process of powder and liquid electroplating spray.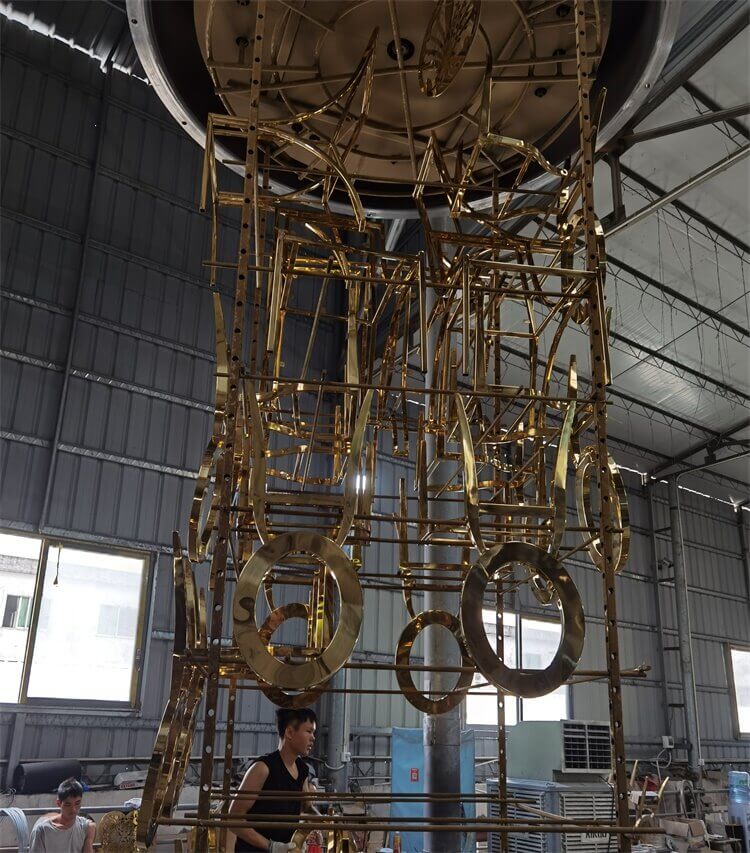 Finished chair products will be individually wrapped and protected by soft foam. In many cases, 4 or 6 can be stacked in a carton/box. Chair cushion and upholstery including other related parts will be included in the box with individual protection wrap.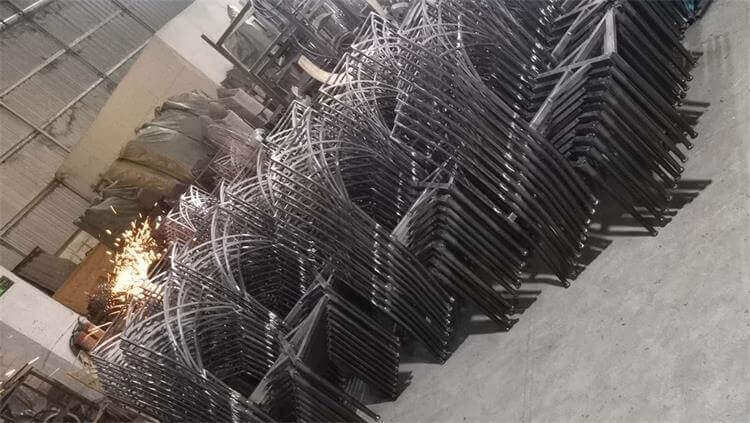 The material of the upholstery is generally leather or fabric. The matching of the back and the seat cushion depends entirely on the customer's requirements. Currently, there are more Liu Xiang styles on the market, and many seatbags and backpacks can be removed for easy replacement with different colors.
Stainless steel chair leg painting process
Today we will share the painting process of stainless steel chairs, which is also known as electroplating. An important key factor to this very delicate process is to polish the chair 2 to 3 times prior to electroplating to ensure the smoothness of the surface of the chair that will assimilate maximum adhesion of the electroplating powder and evenly distributing color to the entire surface.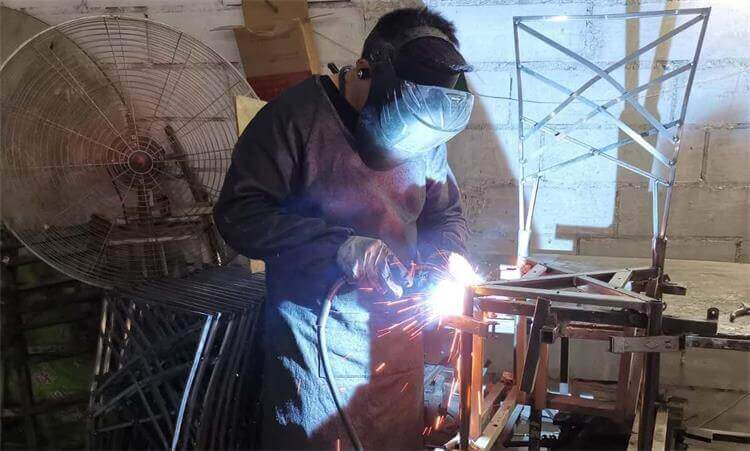 In some products, the process of pickling is required for thorough cleaning and will be arranged for the product to undergo. In terms of the electroplating process, a more professional method is also utilized to obtain uniform thickness and brightness of the electroplating powder on the product,
in which a controlled setting is done by the computer. The previous polishing work mentioned shall also be of importance to perform prior to this process.
Lastly, it is highly recommended that all chair products that have undergone the process of electroplating be given a timed process to cool off in a dust-free area before entering the final process of packaging and shipping.
How to clean stainless steel chair legs
Choose different cleaning methods according to different dirt Stainless steel chairs can be washed with soap, weak detergent, or warm water if there is dust on the surface of the stainless steel chair and dirt is easy to remove. The trademark and film on the surface of the stainless steel chair should be washed with warm water and weak detergent, and the binder component should be scrubbed with alcohol or organic solvent (ether, benzene). Grease, oil, and lubricating oil on the surface of the stainless steel chair should be cleaned with a soft cloth and then cleaned with neutral detergent or ammonia solution or special detergent.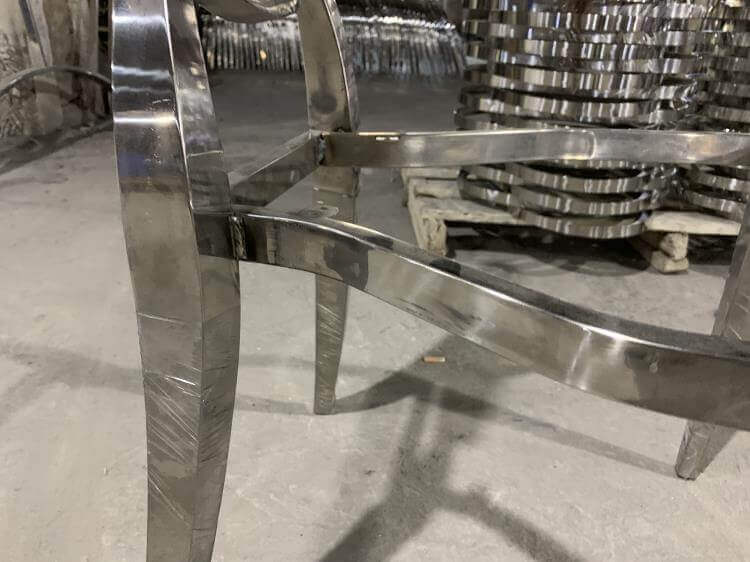 What table does the stainless steel chair match?

Stainless Steel Tables and Chairs
Glass table Marble tabletop



Conclusion
Where can we find a wholesaler of the stainless-steel chair that bears the standard quality that these buyers' guide narrative specified?
Choosing the right channel to purchase the right product is always a challenge for many buyers. That is why this free buyers guide is published for consumers in every type of situation and need to better navigate to the right choices and gain knowledge of the product for a proper understanding of the product itself. However, some of us also, have different ways and methods used on how to find quality products, and this is respected.
However, to complete the purpose of this publication, here is a list of the recommended channels we know that have the stainless-steel chair product with the qualities stated in this buyer's guide. We hope to have provided the readers the substantial knowledge of this product and hope that through this little method we shared can be of assistance to your buying needs. Thanks for reading.
Recommended Channels:
Furniture supermarket
Brand store
The Internet
Direct manufacturer
Wholesaler/Distributor
The above channels will help your purchase conclusion end in this article, we have introduced in detail the production process, maintenance requirements, and purchase of stainless-steel chairs. We hope to help readers. With the continuous production and evolution of stainless-steel chairs, more and more scenes use novel styles. Stainless steel tables and chairs. May the stainless-steel chairs be integrated into every scene of the world!